About Polar Fest
Our History
Polar Fest was started in 1996 by Erika Johnson, previous owner of Lakeside Tavern. She loved winter and wanted to see some sort of celebration of winter by the lake and outside her restaurant. Coincidentally, at the same time, Ron Zeman, former board member for Develop DL, heard about people jumping into a hole in the lake to raise money for an organization. He took that idea to the Boys & Girls Club and the "Polar Fest Plunge" was born.
Polar Fest continued until 2002 when lack of support left Polar Fest with only its key event -- the Polar Plunge, but no other activities. In 2005, a group of crazy, winter-loving citizens came together to reinvigorate and warm up Polar Fest. Since then, Polar Fest has continued with the pinnacle event being the Polar Fest Plunge into Little Detroit Lake plus a myriad of other activities ranging from golfing on the lake to presentations by polar explorers to dances in the sand. In 2008, fireworks on the last Saturday evening were added and that has become one of the highlights of the week-long winter celebration.
Polar Fest is held annually in mid-February with the plunge and fireworks on the Saturday night of President's Day weekend.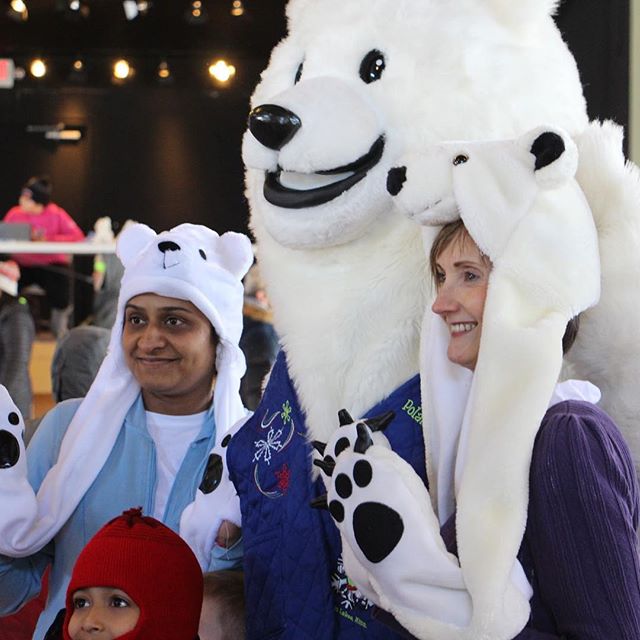 How did this Arctic ursus come to live in Detroit Lakes? Read on to find out.
There are many stories surrounding Polar Pete, but legend has it that Polar Pete came to Minnesota from Churchill, Manitoba, to visit his old friend Babe the Blue Ox. After seeing the beauty of Minnesota and all the fun that Babe had living in Minnesota, Polar Pete decided he wanted to live here, too. He checked out a number of communities, but none had quite the same feel and love for winter as Detroit Lakes. For a more in-depth tale of how Polar Pete came to DL, check out the story below.
How Polar Pete Arrived in Detroit Lakes
By Mike Stearns
Polar Pete was a fun bear. He loved excitement! Polar Pete was a bear of action! One fall day, sitting around on the ice way up north in the Arctic Circle, he decided that he belonged someplace where he can be himself. He needed to be somewhere there was more to see and do. As winter set in that year, Pete wandered south. He wandered across the Hudson Bay to a place called Churchill, Manitoba. Sure, he found other polar bears there and there were people there, too. The sad part was that it just wasn't fun enough. The other bears were just looking for food and the people pretty much stayed inside. Southward Polar Pete traveled, passing by Lake Winnipeg. Everywhere he looked, there just wasn't enough excitement for Pete. He was sad, he liked people and he wanted to play.
Polar Pete had traveled many days and many miles, searching. Several months passed and soon it was February. One day, wandering through the western part of Minnesota, Pete started to grow excited. With his good hearing, his great eyesight and his even better sense of smell, he knew he was approaching something wonderful. As he traveled along Highway 59, he came over a hill that brought him to Detroit Lakes. Polar Pete immediately went downtown to see what was causing all the excitement. There, he found "it". It was people who embraced winter and who made it a time to celebrate. It was people who knew you couldn't dread winter, otherwise you were living in the wrong part of the world. It was people who knew you had to enjoy this time of year for what it is, a beautiful, grand season. The people of Detroit Lakes realized that and they celebrated it with Polar Fest.
For the next week, Polar Pete celebrated winter with everyone in Detroit Lakes. He went to the mall, he watched the snowmobile races, he curled in a bonspiel, he went to the theater, he golfed on Little Detroit, he ran in the Freeze Your Buns Run race, he plunged into the lake (ten times, a new record!), he watched the fireworks as they glittered above the lake, he danced the night away, he learned more about Becker County and he finished the week skiing through Dunton Locks County Park.
Do you know what? As Polar Fest drew to an end that year, Polar Pete realized that he didn't have enough time to do it all! It was right then and there that Polar Pete decided that Detroit Lakes was the winter place for him. He was thrilled to find people that loved winter as much as he did. So, every February, you can find Polar Pete in Detroit Lakes, trying new activities of Polar Fest and doing some of the classics. Live by Polar Pete's Polar Fest motto: "Get outside and find your fun!" He would love to see you out there.
Live by Polar Pete's Polar Fest motto: "Get outside and find your fun!"
He would love to see you out there.